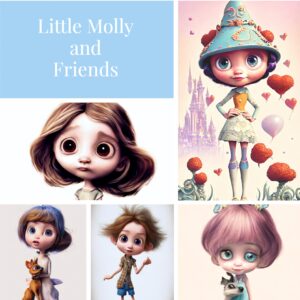 Are you looking for the perfect addition to your home decor? Look no further than Little Molly
and her friends and animals! Our collections will feature adorable and cute pictures created by AI,
which are all styled in the beloved Pixar format with big eyes and expressive faces. The theme of
our pictures will be medieval castles and forests, adding an extra layer of whimsy and magic to our artwork.
But that's not all – Little Molly and her friends are also accompanied by a cast of cute and cuddly animals!
From dragons and unicorns to bears and bunnies, there's a creature for everyone to love.
These pictures are perfect for decorating a child's room or nursery, or for adding a touch of
whimsy to any space. They make great gifts for kids, too!
So if you're looking for some cute and adorable artwork to brighten up your home or gift to
a loved one, be sure to check out Little Molly and her friends in our Etsy store.
You won't be disappointed!
Ten Images are included in this download, just print, frame, and hang.
This is our second collection of Little Molly, more to come soon.